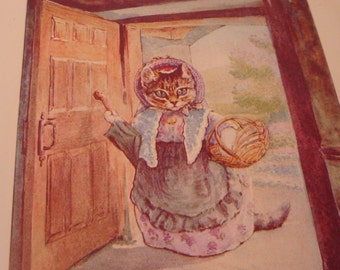 Some days do you ever have the feeling that you are Tabitha Twitchet
from Beatrix Potter's Tale of Samuel Whiskers and the Roly Poly Pudding?
Instead of my kittens getting rolled up in a sooty dough to be eaten by rats, I have one family member dragging himself across the bottom of the ocean while an angry seal tries to bite his fins. Another family member is hangin out in Bolivia of all places-while another is backpacking in Peru, joining biking groups called the Death tour! ( I only learned about this fearful name after being asked to download her trip photos after her cell phone was stolen).
Yes—-what it is to have such an unruly family- This is what Tabitha Twitchet says in her  frilly kitty bonnet, as she locks her children up in the cupboard.
Why didn't I think of that?
If you are one of the lucky people who have families that sit around a Turkey at Thanksgiving, be grateful!
Some how this is not my family's fate.  This weekend I opened up my house for an impromtu art showing.
This allowed me to talk to many different people all weekend long. I only felt a slight twinge that there were families reunited for the holidays- happily filing through my living room.
All I could do was plan for the day in the future when we will have a turkey dinner together.
Of course only after I wash the soots from the dough  that the rats have stolen.
Waste not want not.